You Just Got Engaged…Now What
4 min read
First of all, congratulations! Welcome to the world of being engaged. It's wonderful, exciting, and for some people, a bit overwhelming. And that's perfectly understandable. One day you were dating someone, the next you're going to get married! Suddenly, out of nowhere, you need to start planning a wedding.
But not to worry, because we're going to walk you through some of the most important wedding planning first steps you can take after saying "I do."
Figure Out A Wedding Timeline
If you're feeling overwhelmed, one of the easiest ways to get rid of that feeling is by organizing the wedding planning process. There are plenty of components to planning the perfect wedding, but the first step for a recently engaged couple should be determining a realistic wedding timeline. To kick this off, sit down with your fiance and determine what an appropriate wedding timeline would be for the two of you.
Keep in mind that while there are certainly average timelines and a general sense of expectation when it comes to wedding timelines, these are by no means strict rules. Think of them more like guidelines. The average duration of a wedding timeline, from engagement to the wedding day is typically in the realm of 12 months. If that helps you put things into perspective, then by all means, use that as your benchmark.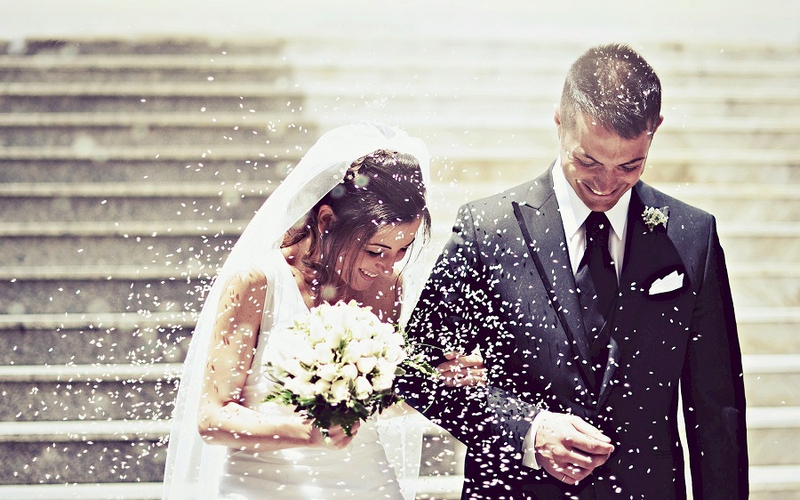 But that's not accounting for life events, financial limitations and a variety of other things that can extend the timeline.
Set A Budget
Right after you've established an appropriate wedding timeline, it's time to start considering what your budget is going to look like. The key here is to have absolute transparency about what you're both comfortable with. If you and your fiance are having a tough time coming up with a number, consider creating mock-up scenarios to see if they not only satisfy your financial needs but also your expectations for the wedding.
Another important thing to keep in mind is whether or not either of your parents are willing to help cover a portion of the expenses. While this isn't exactly expected, considering your parent's financial situation and their willingness to contribute is another crucial budgeting step.
Start Discussing The Details Together
From there, you and your fiance need to start getting into the actual decision-making process of wedding planning. Find time to sit down together, at least once a week, and figure out what you want your wedding to look like. This is where the wedding truly begins. And to be clear, this is a two-person job.
The wedding shouldn't just be a reflection of one person's desires. You're both getting married, which means that you both deserve to have a wedding that makes you happy. Start simple at first:
Who's going to be on the guest list?

What kind of flowers should you get?

How much are you willing to spend on your

custom bridal gown

?

How are you going to

juggle wedding budgeting

with your regular financial responsibilities?
Then work your way down the list together, making sure you're both satisfied and in agreement by the end. This simple process can go a long way towards avoiding confusion down the line.
Be Open-Minded
This goes along with the last point we brought up. If you're planning a wedding together, it's inevitable that you're going to disagree on how certain things should be handled for the wedding. This isn't just normal, it's expected. The whole point of this process is to figure out a happy middle ground for the both of you.
But you're not just being open-minded with each other when it comes to personal preferences. You also need to keep an open mind when it comes to the rest of your wedding. No matter how good you are at wedding planning, it's inevitable that you're going to end up in a situation or two that are far from ideal. The key to dealing with these is to remain flexible and willing to adapt to the changing circumstances.
Look Into Venues
Now that you've taken care of all the preliminary planning and you've gotten on the same page with your fiance, it's time to take your first major step in the wedding planning process: choosing your venue. The reason you're going to want to start with this part is due to the wait times you're likely to deal with. Venues are typically booked up several months in advance, which means that getting your hands on one by the end of this year means looking into it ASAP.
Most of the time, you're going to want a venue that matches the style you were already thinking of. Compatibility is everything in situations like these. But sometimes, you'll find a venue that you absolutely love, but doesn't fit at all with the wedding style you'd initially envisioned. If that happens, sit down with your fiance and figure out whether or not you two would be willing to consider a different style for the sake of picking that venue.
What first steps have you taken since getting engaged? Share your experience in the comments.